Page 14 - Cat 03 BSP SV 60 Adapters.pdf
P. 14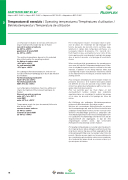 3
  ADATTATORI BSP SV 60°
Adaptors BSP SV 60° • Adapter BSP SV 60° • Adaptateurs BSP SV 60° • Adaptadores BSP SV 60°
Temperature di esercizio / Operating temperatures / Températures d'utilisation / Betriebstemperatur / Temperatura de utilización
   18
Le temperature indicative di esercizio ammesse per i singoli materiali (influenzabili dal tipo di fluido): raccordi in acciaio al carbonio
da -40°C a +200°C
guarnizioni di tenuta NBR da -35°C a +100°C
The working temperatures depend on the materials (also influenced by the operating medium):
for fittings in carbon steel
-40°C up to +200°C
for seal materials NBR -35°C up to +100°C
Die zulässigen Betriebstemperaturen sind vom ver- wendeten Werkstoff abhängig (auch durch das Medium beeinflußbar):
Für Verschraubungswerkstoffe
Stahl -40°C bis +200°C Für Dichtungwerkstoffe NBR -35°C bis +100°C
Les températures indicatives d'exercice admis pour chacun de matériels (influencés par typologies de fluides):
Raccords en acièr en carbone
entre -40° C et + 200° C Joint NBR
entre -35°C et +100°C
Temperaturas según los tipos de material (influencia- bles del tipo fluido):
racores en acero carbono
de -40°C a +200°C
material de ajuste NBR de -35°C a +100°C
Per le temperature elevate è necessario ridurre le pres- sioni di utilizzo. Se il materiale dei tubi impiegati è dif- ferente da quello dei raccordi occorre verificare sepa- ratamente il campo delle temperature ammesse e le necessarie riduzioni di pressione. Per i raccordi con i filetti maschi si deve eventualmente tener conto di ridu- zioni supplementari considerando il materiale del gruppo dove si avvita il raccordo e la tipologia di tenuta dello stesso.
When working at high temperatures, the operating pres- sure must be reduced. Temperatures and pressure reduc- tions in a hydraulic system must be referred to the tube material, in addition to the fitting material. Male stud couplings may require extra pressure reductions, related to the material where the fitting is screwed in and to the sealing system.
Pour les hautes températures est nécessaire réduire les pressions d'exercice. Si le matériel des tubes utilisés est differént de celui des raccords il faut vérifier sépa- rément les camps des températures admis et les néce- saires réductions de pressions.
Pour les raccords avec les filets mâles on doit éventuellement tendres compte des réductions supplémentaires en considérant le matériel du groupe où on visse les raccords et la typologie de tenue du même.
Bei Erhöhung der zulässigen Betriebstemperaturen müssen die Betriebsdrucke erniedrigt werden.
Weichen die verwendeten Rohrwerkstoffe von denen der Verschraubungen ab, sind die Rohre hinsichtlich des zulässigen Temperaturbereiches und der eventuell erfor- derlichen Druckabschläge getrennt zu überprüfen. Bei Verschraubungskomponenten mit Einschraubzapfen kön- nen zusätzliche Druckabschläge erforderlich sein, da der Gegenwerkstoff des Aggregates, in das die Teile eingeschraubt werden sowie, das verwendete Dichtsystem berücksichtigt werden müssen.
Por las altas temperaturas se necesita reducir la presión. Si el material de los tubos utilizados es diferente del ma- terial de los racores hay que verificar separadamente las temperaturas admitidas y las necesarias reducciónes de presión. Para los racores macho se tienen posiblemente que considerar suplementarios reducciones consideran- do el material del grupo donde se enrosca el racor y el tipo de ajuste del mismo.